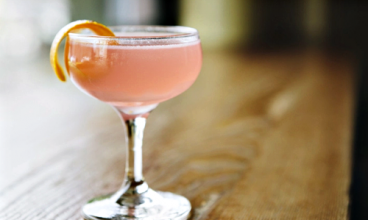 Pink drinks get a bad name.

We blame Sex and the City. Though, to be fair, we blame that show for many things.

Point is: we're issuing this public service announcement to inform everyone of the very reputable and very pink Jasmine cocktail.

This modern classic is less Arabian nights and more of a bright, citrusy gin drink with just a hint of Campari's trademark bitterness. It's good. And it tastes kind of like spiked grapefruit juice, so it goes down easy at brunch or whenever else you like to consume cocktails that taste kind of like spiked grapefruit juice but are, in reality, not.

Anyway, here's how to make it.

Jasmine Cocktail

1 1/2 oz gin
3/4 oz fresh lemon juice
1/4 oz Campari
1/4 oz Cointreau

Shake all ingredients with ice and strain into a chilled cocktail glass. Garnish with a lemon peel.