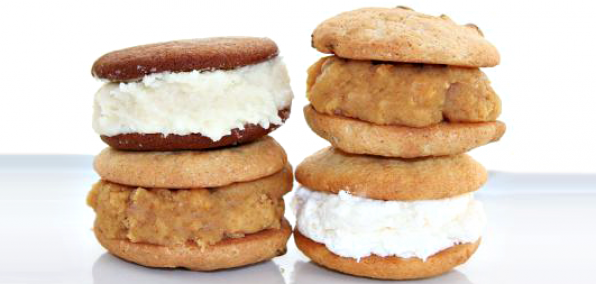 We've got a good feeling about today.

Just seems like the kind of day where anything is possible.

Where you might be casually checking your email only to discover some wonderful news about Drunken Fall Whoopies, which already score high marks for being whoopie pies, but receive extra credit for being seasonal whoopie pies infused with alcohol. They're available now for nationwide delivery.

See, good day... These come from Cape Whoopies, which is based in Maine. Feel free to visit sometime. But since they deliver, you're only a few clicks away (plus, you know, a few days' worth of waiting) from tearing into a variety pack of the following:

Crazy Nut Job: Walnut cakes filled with Frangelico cream.

Drunken Ginger: Warm spiced ginger cakes that get the bourbon cream treatment.

Drunken Punkin: Spiced pumpkin cakes sandwiched around nutmeg amaretto cream.

Granny's Gone Wild: Spiced Granny Smith apple cakes filled with caramel cream.

Apologies for any mental images spurred by that last one.

We didn't name it.