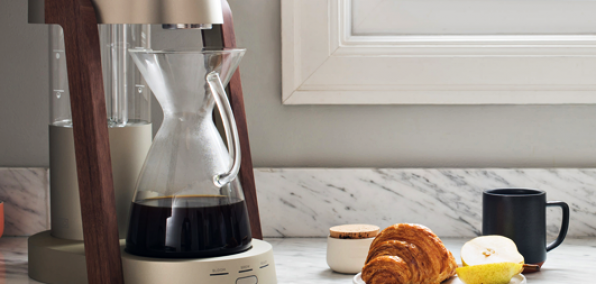 All you need in the morning is a strong cup of coffee.

Nothing more.

Okay, maybe a danish or something. Bowl of Chex.

Anyway, point is, you probably wouldn't mind if that coffee came out of a very design-forward brewer specifically engineered to make the best cup of coffee possible.

That's Ratio Eight's cue. It's an unnecessarily attractive new coffee apparatus that's available for preorder now and shipping in December.

This is handmade in Portland, which shouldn't surprise anyone. The body is die-cast aluminum and wood, and there's a glass carafe where a plain old coffee pot would otherwise be. You don't often hear kitchen appliances referred to as "handsome," but it's perfectly acceptable in this case.

Now, for the actual coffee-making part: after you hit the brewer's single button, it allows the grounds to bloom like a pour-over. It automatically adjusts the water-to-coffee-grounds ratio and only uses water heated to a temperature of 202 degrees. And that water will go through a stainless steel showerhead to ensure an equal distribution.

Then you've got coffee. You pour a cup and enjoy it immensely.

You do other things, too, but later.