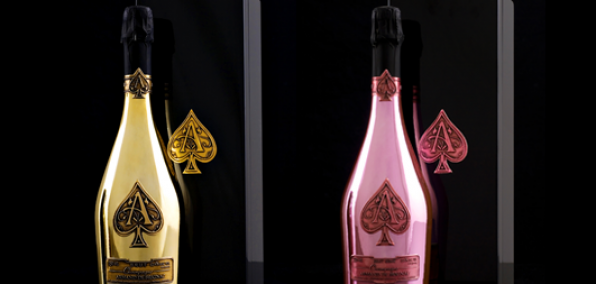 On Monday, just in time for the start of champagne season, the famously Jay Z–owned Armand de Brignac (aka Ace of Spades) will drop two new wines into the American market.

First, there's Blanc de Noirs, a 100% pinot noir creation. With only 3,000 bottles being released, this will be your let's-blow-this-thing-out-of-the-water, you-only-live-once, bring-on-2016 option. Or if you just want something nice with glazed duck.

Second, Demi-Sec, a slightly sweet 40% pinot noir, 40% chardonnay and 20% pinot meunier, will be making a strong play for your dessert champagne. So... keep it away from Santa.

But Monday is a long, Blanc de Noirs–less way away. If you're looking for weekend bubbles—or just think it's a good time to start auditioning your holiday champagnes (which, hint: it is)—classic Armand de Brignac cuvées are still good splurge options.

For the Hostess Gift:
Armand de Brignac's flagship Brut Gold. You want something that's going to make an impression, and golden bottles of champagne have a way of doing just that. But don't let the flashy exterior fool you. This sparkler is a real workhorse—dry, round, toasty—a classic, all-around wine for knocking back a little caviar.

For in Front of a Roaring Fire:
Keep a bottle of Rosé on ice. This is the Beyoncé of champagne. All frilly pink bottle on the outside, but inside—all business. It's even a good food wine offering (in case that roaring fire happens to be under a fondue pot) with nice body and good structure.

If your date matches that description, even better.