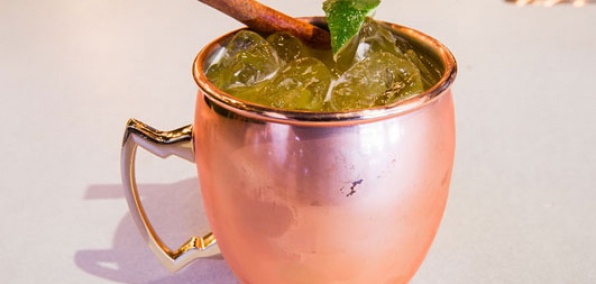 Sometimes, you get so caught up in the turkey and the stuffing and the cranberries-you-feel-an-obligation-to-eat, you inadvertently toss your Thanksgiving quaffing needs to the side.
And that's a damn shame.
So today, we preemptively bring you the Pumpkin Mule, which combines the freshness of a more traditional mule with the seasonal warmth necessary for a hearty November feast. It's refreshing, it's easy to make, and the pumpkin complements the lime juice in a way you wouldn't expect. But most importantly, it won't kill your appetite.
This recipe is from the barkeeps over at the forthcoming
Bottled Blonde
in Chicago.
Who must really like you or something.
Pumpkin Mule
1 1/2 oz dark rum of choice (aged preferred)
1/2 oz bottled pumpkin syrup
1/2 oz fresh lime juice
4 oz ginger beer
Build ingredients in order over ice. Stir and serve in a double Old Fashioned glass or Moscow Mule mug.