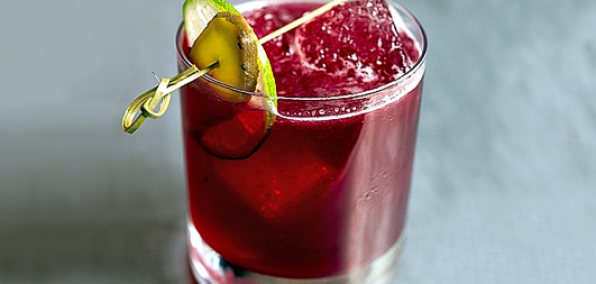 El Diablo sounds scary, but it's actually quite friendly. It's definitely tequila-y. And it's a reason to use that bottle of crème de cassis that's been sitting dormant at the back of your bar all these years. Or maybe it's a reason to procure a bottle. Either way, El Diablos are at stake, so your possessing some of that black currant liqueur is increasingly important.

When making one for yourself, you can add the crème de cassis to your shaker, or you can pour it over the top of your finished drink. Just do whatever feels right. But for quality-control purposes, it's probably best to make the cocktail both ways. And then to drink them both and start again. Because all good artists destroy their own work. Or something.

Anyway, here's the recipe.

El Diablo

1 1/2 oz reposado tequila
1/2 oz crème de cassis
3/4 oz fresh lime juice
2 oz ginger beer

Shake tequila, lime and crème de cassis with ice. Strain into an ice-filled glass, top with ginger beer and garnish with a lime wheel.