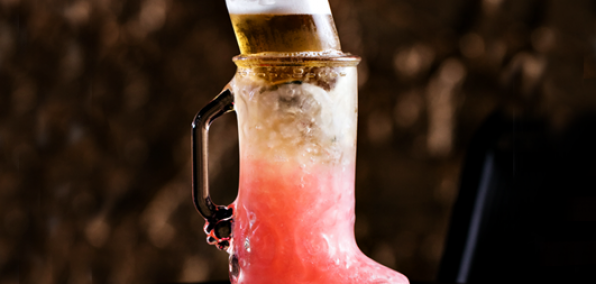 Seriously, look at it.

That's the Stone Cold Stunna, a tiki-fied beverage you can find at One Fifty One, a New York bar from the guys behind Death + Co. We bring it up because they've unleashed a new menu of tiki drinks to make everyone forget that it's actually fall. And that fall turns into winter. And that winter is typically where sunshine and umbrella drinks go to die. So consider this your rallying cry to not go down without a fight.

The cocktail joins mezcal and gin (that's right, two liquors) with lime, ginger and raspberry. All that gets the overturned-beer treatment in the form of a Miller High Life. And the whole thing is lovingly presented in a glass boot. This tells us a couple things:

1. These people really know how to have a good time.

2. There's more than one way to drop a beer into a cocktail into a boot. Because while your average iteration is a lot more... unfortunate beer-tainted margarita in a questionable bar, here you've got a well-made drink that actually tastes good. And when you're drinking something, you want it to taste good.

Even when it comes in a boot.