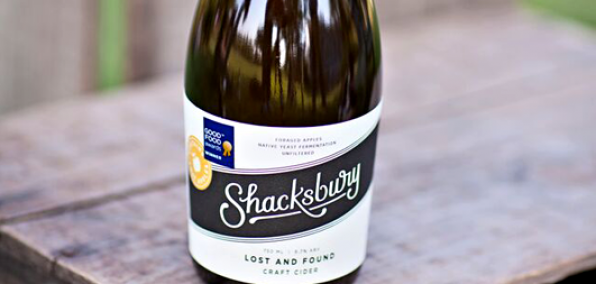 Peak fall. It's happening... now.

So you'd better find yourself some cider to sip.

And quickly.

Here's one: Shacksbury Lost and Found from Vermont. It's a limited seasonal release of only 240 cases that you can and should drink right now.

This stuff is made with "lost apples" from the Champlain Valley. See, a bunch of apple trees were planted over a century ago by homesteaders who were making their own cider the old super-New-England-y way. Said trees weren't maintained in orchards over the years and were eventually forgotten, so now they're all just hanging out in the wild. But fortunately for us, they were rediscovered by a couple of guys who like to forage around for old apple trees and then blend that fruit with New Hampshire heirloom apples, thereby making this cider.

Which is a 6.5% ABV unfiltered cider with a good dose of funk to it. It's extra dry with a tartness that's sour but not too sour.

In short, it's about as far as you can get from the Sprite-esque snake oil that passes for cider at most bars these days. And a lot closer to what Robert Frost would've sipped on his porch while contemplating the taking and not taking of roads.

Robert Frost just feels like a dry cider guy.