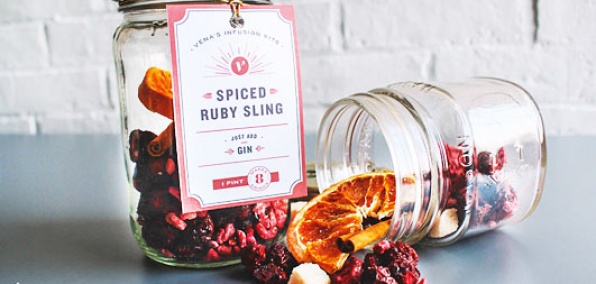 Soon, you'll be peeping leaves. Creatively disemboweling pumpkins. Making crucial touch football referee calls.

All the usual fall-related pastimes.

Oh, and pouring a bunch of bourbon into a mason jar filled with freeze-dried fruits and herbs and leaving it there for five days to create a Maple Pear Old Fashioned. Can't forget about that classic.

But first, you'll need to consult Vena's Fizz House. It's a Maine-based bar and mixology shop that's selling a range of seasonal home infusion kits online and shipping them nationwide.

You've got 10 options to work with. Each involves a mason jar—it's fully reusable if you happen to not break it—that's filled with a cornucopia of freeze-dried fruits and botanicals, plus sugar cubes infused with bitters. 

All you're required to do is open said jar (available by the pint or half pint), pour in the called-for spirit and seal it. Then find a way to occupy yourself for five long days until that Spiced Ruby Sling (gin, pomegranate, sour cherries, spices) is ready. Or the Harvest Margarita (tequila, apples, citrus, spices, bitters). And we can't forget Winter Dreams (rum, strawberries, bananas, mangos, pineapples).

Actually, let's not think about winter yet.