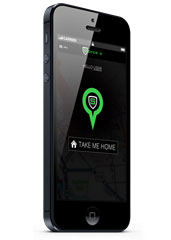 It's 8am.
Do you know where your car is?
You do if you used
Sofer'd
, a new Dallas-based service that's deploying two-person teams to give both you and your car a safe ride home, now available for iPhone and Android.
You've got lots of transportation options these days. But this is the only option where you can drive to wherever you're going and still manage to get your car home without driving it yourself. Just in case that becomes necessary.
It goes something like this:
1. Download the app. It's an obvious and important first step.
2. Sign up (there's a one-time $25 fee), then input your payment info and some vitals on your car. There's no limit to the amount of rides you can take, and each trip includes an automatic distance-based tip to your drivers.
3. When you need a ride, request one. Twenty-four hours a day. Two drivers will show up at your location—one will take you home in your own car, the other will follow. They'll give your companions a ride, too. Easy.
And that's it. You made it. Now have a snack, drink some water and go to bed.
Ideally in that order.