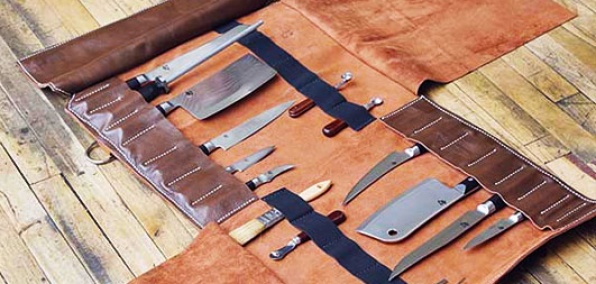 Your final summer cookout is nigh.

But don't be sad.

Your first tailgate cookout is also nigh.

And they should both probably involve 5 Loaves 2 Fish, a Chicago-based site filled with all manner of barbecue-specific gear and accessories that's online now.

What you're dealing with here:

Leather knife rolls
Hand-stitched leather exterior. Soft suede interior. They're designed by a chef and intended to be used by the elite of the culinary industry. And... also by people who just want to look damn good carrying eight to 15 knives around.

French-style cutting boards
They go so well with a bunch of knives. Plus, they're made out of walnut or Texas pecan, and who doesn't like a good nut wood.

Denim aprons
Because 1) you're not willing to get your important tailgating clothes all barbecue-sauced up, and 2) Kiss the Cook aprons are very out of style right now.

Logo stickers and T-shirts
Probably ignore those.

A line of small-batch barbecue sauces
Those are coming in the future, so be patient.

They obviously had to perfect the logo stickers first.