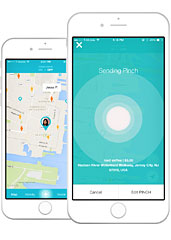 "Don't ever do what you can have other people do for a small fee via smartphone." —
Poor Richard's Almanack
Damn, did that Ben Franklin have some foresight or what?
That's the elegant thesis behind
Pinch
, a new app that solicits strangers to bring you whatever you need whenever you may need it, available now for iPhone and soon for Android.
Go ahead and download this. Add your phone digits and credit card info and everything else they need these days. Then think long and hard about what you need delivered posthaste. A maple-bacon donut from Union Square Donuts, for instance.
To get that, you'll send out a "pinch," which is where you describe what you need and how much you're willing to tip to get the job done. The set tips are $3, $6 and $9, but you can custom-set it as high as you want, up to $99. Sometimes you really want that donut.
Finally, someone accepts the pinch. When they do, you'll see their photo and information. You can request an ETA or text them to see how the mission's going.
It's not classified or anything.