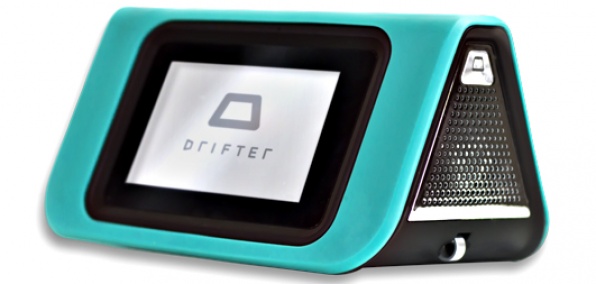 Friends, brothers, comrades.

Hear now: an idea.

A challenge.

A goddamn call to arms.

At your next pool party, we hereby call for your group of friends to band together and leave your phones inside.

That's right. Just leave them there. Inside.

And then... go outside.

That's where the sun, pool and Drifter will be: the first wireless speaker that can perform its speaker duties without any phones involved. A theory we think is worth testing. It's available for preorder now.

Picture this: nice-looking people you know and like, milling about in swimsuits. Laughter, abounding. Bikini-clad companions on shoulders everywhere, the air abuzz with promises of chicken fights. And no phone in sight.

Yeah, out there floating in the pool: this thing, bumping a pool-party-forward playlist. It has its own operating system, so you can either download tracks onto the hard drive or stream through an app—no phone required. It also has a camera, so you can snap some photos—no phone required.

This is about you. You enjoying a pool party of yesteryear. Living in a world without texting or emails or social media, for but an hour or two.

Eventually going inside to retrieve your phones as stronger, more in-touch friends.

Someone's got to tweet about the phone-free pool party.