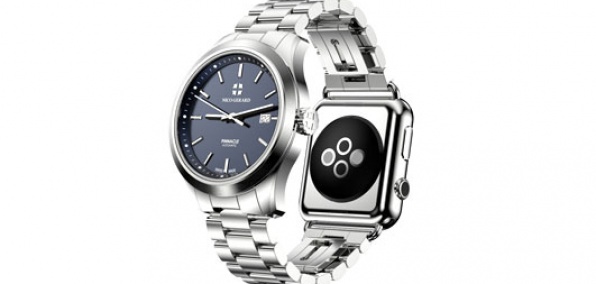 "Might I have the time?"

—Normal inquiry directed at those wearing watches

"What is happening on your wrist?"

—Also that

All thanks to Nico Gerard: a watch line that's lodging Apple Watches into the bands of regular watches and acting like everything is normal. They're available for preorder now.

It started as a classic Swiss-made watch: steel. Handsome. Telling time. And then things got out of hand. The designers stuck an Apple Watch into the clasp, so users can use the top of their wrists to tell time, and the bottom to do other, less necessary things.

Consider the possibilities:

You'd like to know the weather.
Flip your wrist and tap the tiny screen until you do.

You'd like to read a potentially cheeky text.
Pretend to scratch your forehead or something.

You're lost or bored or really in need of a timer.
Check your maps. Check your music folder. Check your home screen for the appropriate timer icon.

You'd like to text your friends about your new watch from your watch.
Or look at photos of your new watch on your watch.

Oh, and if this all sounds great, but you'd prefer an entirely gold version, that exists, too.

Hard to know exactly where this got excessive.