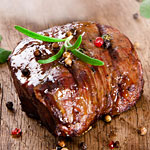 THE EDGE
Park City's Best Steakhouse Is Here
From: Park City.
To: Vegas.
Subject: Steak, etc.
Hey, long time no see. Thought you might be interested in owning a location of a restaurant that's been voted Utah's best, three years running. It's called Edge Steakhouse, and they have stuff like Wagyu beef, seafood towers and lots of wine.

PS: Where's our f**king Cirque du Soleil?