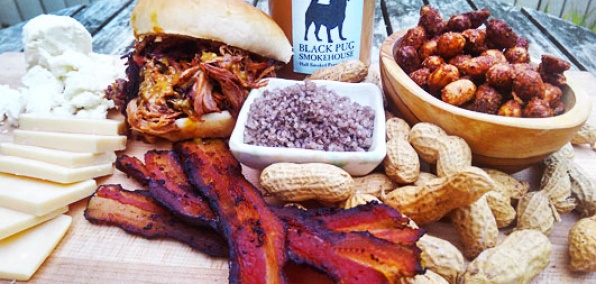 There's nothing these people won't smoke.

Think about the backyard-cookout-related weight of those words for a minute.

...

Good. Now you're ready for Black Pug Smokehouse, a new outfit dedicated to smoking all kinds of edibles, now taking orders via email in addition to popping up at area farmers' markets.

Here's a list of things they smoke:

—Peanut butter. They smoke raw peanuts with oak and applewood, blend them with local honey and their own smoked sea salt, then pound it with granite until it's nice and peanut-buttery. May we suggest a smoky fluffernutter.

—Cheese. Like Vermont sharp cheddar and Wisconsin chèvre.

—Nuts. Sure, the same peanuts that go into the butter, tossed with BBQ rub. But also almonds and—watch for it this fall—sugared pecans.

—Condiment-worthy pork. They smoke jowls from heritage VA pigs, then add brown sugar and spices. Then they call it Jowl Jam. You add it to sandwiches or burgers.

Keep an eye out for special runs and seasonal smokings, too. Like salmon spread and pulled pork. You might even see smoked water that you can refreeze into cubes for your cocktails.

Cue up the Deep Purple.