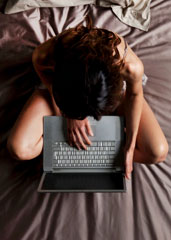 There are needs. (Boring.)
There are wants. (Keep going.)
And then there are fantasies. (There it is.)
So about that last one:
Starry Night
is... well, it's a membership-based dating site that facilitates ménages à trois, ménages à quatre and other things you or someone else might be into. It's online and taking member requests now.
Well, we know someone's got questions. Shoot.
Q: ... Are we really talking about this?
We are. We are.
Q: Okay, then. Tell me about the membership process.
They basically just want to make sure everyone fits with the existing members' vibe. You'd submit things like a location, a bio, preferences and—
Q: Preferences?
Yeah. Whether you're looking for a woman, a couple, a group, tripl—
Q: I got it, I got it. Please, go on.
So you submit your preferences, a few photos and whatever else. And once you're approved, you can search for other members who are into what you're into. Then, when there's a match, send a message to her, or them, or... well, you can take it from there.
Q: Van Gogh is rolling over somewhere.
Sorry, van Gogh.