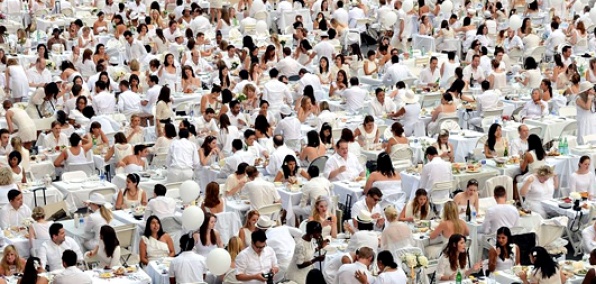 Let's go on a picnic.

We'll bring a table and two chairs.

You bring enough potato salad to feed 1,200 people.

Wear white for Le Dîner en Blanc, that from-Paris dinner party wherein you'll join a large crowd for a spirited meal at a secret location in Dallas. They're accepting sign-ups now.

So go ahead and sign up for the wait list, then stand by for your invitation. That comes later.

Here are more things you should know:

—Seriously, wear white. It's mandatory.

—It's a formal event, with a sit-down dinner and some strolling entertainment.

—It's BYO table, chairs, utensils and food. Really make a go of it. An oyster tower and a tomahawk chop won't be out of place.

—But if that last bit's too difficult, you can reserve a Wolfgang Puck–approved basket on the website.

—Don't forget your wine and champagne. You'll need to secure that online, too.

—After dinner, you dance. There will be a DJ to help facilitate that. And the whole thing ends with a fireworks show.

The date and location are secret, for now. But the date will be released July 30, and it'll all go down sometime in the early fall.

This is one cagey picnic.