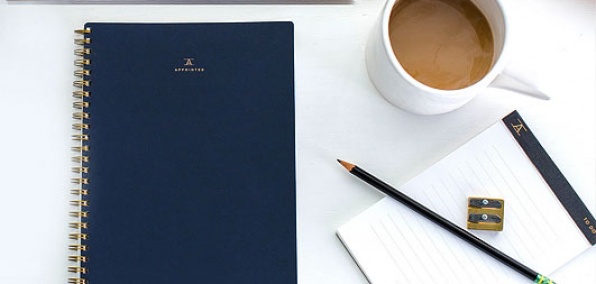 And now, great moments in DC desks:

1880: Queen Victoria gifts a desk made from a British ship to President Hayes. It's still used today by President Obama.

2008: Bob Boilen hosts the first Tiny Desk Concert at NPR.

2015: You get this stuff. For your own desk: Appointed, a new line of handsome, DC-made notebooks, pencils and desk accessories, now available online.

Yup, a lot of what you can do with these things you can also do via keyboards, trackpads and assorted beeping devices. But you have to admit: there's a certain romance about a chambray-book-cloth-covered notebook with brass hardware. Or a mechanical pencil milled from a single piece of brass.

Once you get reacquainted with this analog note-taking thing, you may want to check out their notepads, calendars, day planners and such, which they're happy to monogram for you.

Throw them together with a waxed-canvas pouch made in collaboration with Atlanta's Andover Trask, and other brass accessories like a pencil cup and ruler.

Yes, you can drink whiskey out of the pencil cup.