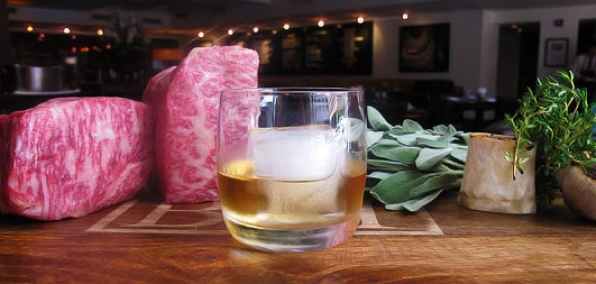 On a normal night: you have a steak. Then you have a whiskey.

Not tonight. Tonight, you have steak whiskey.

Because this stuff exists: Wagyu-Infused Whiskey, the beefiest glass of booze you've ever tasted, now available off-menu at BLT Steak.

This might be the best pairing to originate in Japan since ScarJo and Bill Murray.

It starts with trimmings from the restaurant's cuts of Japanese A5-grade Wagyu—some of the rarest, most highly marbled steak in the world. And a bottle of Suntory Hakushu 12-year-old whiskey, some smoky herbaceous stuff from the southern mountains of Japan. Then they vacuum pack them together and slow cook them in a water bath for about eight hours.

It ends in your glass. Sniff it. Lots of malt and earthiness. Taste it. Yup, that tastes like scotch. With a really long... steak finish.

Have them pour it neat, have them pour it on a giant ice cube. Or make it into a Manhattan.

Your days of vegan Manhattans are over.