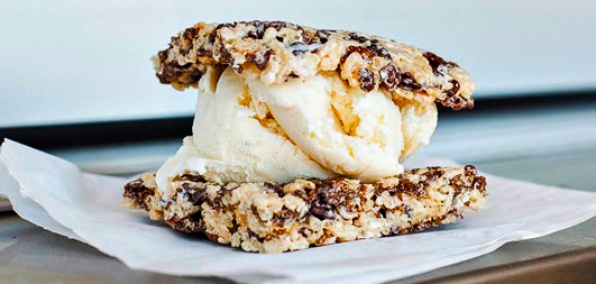 I scream, you scream, we all scream for...

Yeah.

Ice cream makes us do crazy things.

So make some noise for Carnival Barker's Ice Creams. The guys you know from that little window at Truck Yard have just opened up a dedicated ice cream lab in Oak Cliff, which you can now frequent for all your cold-dessert needs.

This really couldn't have come at a better time. Because it finally stopped raining, the sun's out, and temperatures are heating up. Considering all that, you would surely benefit from a cup of Nutella ice cream or a root beer float.

It's a small operation. Just a walk-up window and a few seats out front. But the next time you're having a beer at neighboring Small Brewpub, you'll want to come here for dessert. Or the next time you're jonesing for an ice cream sandwich that's actually ice cream stuffed between a couple Rice Krispies Treats... same thing applies.

Oh, and let's say you're hungry. Like, actual food hungry. Then you'll be delighted to know that this place also serves bowls of chili. Yep, chili. And sometime down the road, they'll start serving hot dogs, too.

Hey, give the people what they want.