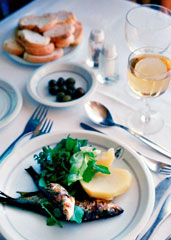 Okay, close your eyes and fall straight back.
Right.
Probably not the best trust exercise to try here.
Instead we'll just tell you that you should really go check out this secret dinner party thing.
Keep your eyes on
The Dining Room LA
, a high-production, members-only dinner where... where a lot of unexpected stuff happens, now opening the books for May 16's dinner.
You won't know where you're going until you absolutely need to. Then you may find yourself in an overlooked antique warehouse filled with waterfalls, exotic birds in oversize cages and champagne-pouring dancers descending from the ceiling. Or maybe not.
See, all that's what they did for their dry run. And no two dinners are the same. Like snowflakes. Unlike
Hangover
sequels.
First you'll mingle a little over cocktails, while performers and musicians weave around you. Then comes dinner, maybe with dance breaks between courses. This time it's going to be a creative (read: meat-free) menu from the Springs' chef.
And you never know who they'll seat you with. You may be enjoying the company of an amiable neighbor who suddenly jumps on stage and starts singing, revealing himself as Raphael Saadiq from Tony! Toni! Toné! That happened to someone.
Who really hadn't guessed Raphael Saadiq.