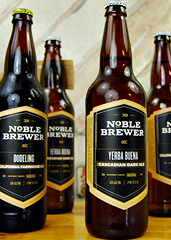 Arnold Palmers.
Fresh lemonade.
Diet Cranberry Splash Sierra Mist.
Yesterday: all appropriate BBQ beverages.
Today: obsolete.
Your cooler now answers to
Noble Brewer
, a new service wherein beers from amateur homebrewers are thoroughly vetted before being churned out in professional breweries and sent directly to your wanton face. They're online and shipping now.
Maybe you have a particularly advanced hops palate. Maybe you just really like beer. Well, happy day. Because what you'll find here is meticulously replicated real live homebrews with the added benefit of... not being made in a garage.
So how it works is this: once you've told them where you live, they'll deliver four different 22-ounce beers to your door every three months. They'll include the brewers' backstories and some tasting cards to guide you through the nuances of your journey.
And then you can break them out at your Memorial Day BBQ and say true things like "This is an award-winning California farmhouse ale brewed by some guy named Jonathan F from the Bay—it's a refreshing ale that's great with food."
Or "This is a Yerba Buena dark ale. It's a hoppy beer with a kiss of chocolate."
Or cheers. Maybe just say cheers.