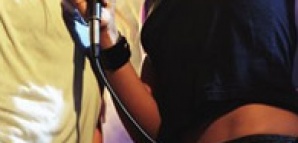 You've always felt that karaoke was a little soft.
Hearing "Sweet Child O' Mine" accompanied by an oddly erotic video of an Asian girl in a rose garden never quite did justice to the mic and the beat, in your humble opinion.
Enter
Hip Hop Karaoke
, where your stage time will be a little more "8 Mile" than "8675309."
Grab your fuzzy Kangol hat and head to HHK at the Knitting Factory this Friday, arriving just in time for Hip Hop Week (and to think you let it go uncelebrated last year).
Arrive at the no-frills venue, walk down a short hallway and into a room with a balcony, small stage and (thankfully) fully stocked bar. Put your name down on the sign-up list, and
pick your song
from old-school favorites such as "Scenario." When it's your turn, emcee Digs will call you to the stage, and DJ Wex will cue up the vinyl. The rest is up to you (although Digs is there to back you up in case Eminem's lyrics get ahead of you).
The crowd is a five-borough mix that packs the room right up to the stage until well after midnight. And don't think you're safe from anyone but Tupac, because the Big Daddy himself has been known to jump on stage when "Warm It Up, Kane" starts blaring.
So get ready to go double platinum, because even if you can't rap (you can't rap), you can still be a karaoke rap star.