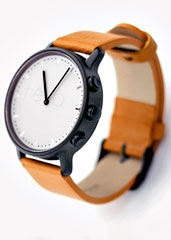 And now, this week's philosophical self-examination:
To Apple Watch or not to Apple Watch...?
Actually, wait. Don't answer that.
Instead, take a look at the
Nevo Watch
, a good-looking piece of wrist wear that sends you phone notifications, tracks your activity and, oh yeah, tells time, now available for preorder and shipping in April.
On its face, it's just a watch. A minimalist piece made with sapphire glass and stainless steel, but a watch nonetheless. And that's where you'd be wrong. So wrong. Because...
It works in tandem with your phone.
The Bluetooth connectivity on this thing will alert you when you receive an important call, text or email. You can also program it so that each alert has its own colored-LED notification. Fancy.
It sees you when you're sleeping.
Yep, it records your sleep time and how well you slumbered last night. Then it sends that info to an app on your phone.
It also knows when you're awake.
Because, come morning, your watch will turn into an activity monitor that tracks your steps, runs, swims and calories burned.
It knows when you've been bad or good.

Not really. Just making sure you're paying attention.