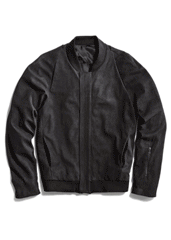 Your body: "I'd like to go on a choose-your-own-adventure quest, please."
This site: "I'm your guy. And stop talking. You're a body."
And we're simply going to move on to
École
now. It's a virtual haberdashing scenario that lets you mix and match a bunch of outfits (sorry we said outfits) until you get it just right, and it's online now.
Public School. Common Projects. Patrik Ervell. Those are but a few of the names you're working with now, and they're adding a bunch more in the coming months.
This is what you'll do:
1) Enter the site and create an account. You can't make yourself look nice if you don't do that.
2) They'll ask for your measurements. That's how you'll know it's working.
3) Before you will be a top-to-bottom row of interchangeable items. Something heavier like a Public School leather bomber, something lighter like a Richard Chai T-shirt, something for your legs like black jeans from Robert Geller, and a single pair of white shoes from Common Projects.
4) Scroll around. Mix. Match. Really get in there. Explore the spring space. Think about all the grilling you'll be doing and the cricket you'll be playing and put something appropriate together.
You play cricket, right?