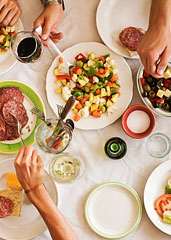 "I hope someone brings beef hearts and frog legs into my kitchen and starts cooking them..."
... is probably not something you were just thinking.
Let's change that.
Here's chef Tim Ma, launching his first catering operation/supper club series. It's called
Gather + Feast
, and he's now taking reservations via Kickstarter for dinners through April 18.
You may have been to his Virginia restaurants, Water & Wall and Maple Ave. Then again, maybe you haven't. No matter, because now he'll come to you.
He'll bring another chef and a server. Also, dishes and silver. Oh, and at least four courses' worth of food. You'll supply at least seven friends. And a table. Hopefully with some glasses on it. Wine might be nice, too.
As for the food, he's got a few options he's working with. Like an offal-heavy menu with pig ear salad, frog leg curry and beef heart tartare. If all your friends are vegetarians, you may want his "Ode to Dirt Candy" menu, with buckwheat tortellini and papaya salad.
For dessert, things stay adventurous. Think bone-marrow ice cream, or peppercorn-macerated strawberries with almond jello.
They'll clean up, too.