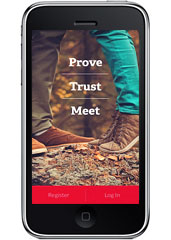 The week: over.
Valentine's Day: ancient history.
Fatal Attraction
: still kind of unnerving.
Sometimes, for some people,
Love Lab
is a dating enabler that might make sense—it's a new app that's sort of like how the FBI would handle Tinder, and it's now available for iOS.
Okay. Sure. Tinder's a thing, and since it uses Facebook to verify everyone's account, it's unlikely that the person under your maybe-moving-rightward finger isn't who they claim to be. Know what else is unlikely? Moon landings. Marisa Tomei's Oscar. That Yo app. Vegan cheese. And what happened in that
Catfish
movie.
So just in case, this thing brings in some f**king biometric data. You sign in, upload photos and swipe away. Could be as easy as just doing that, like normal. But you can up your visible "trust level" by linking social media accounts, yes, and also:
1) Snapping current self-portraits for verification against those social media photos.
2) Filing contact info for further proof.
3) And going through full-on criminal background checks.
If your potential match has gone through all
that
trouble, they're sure to be either exactly as stunning as they appear, or they're an evil genius.
Either way, you'll want to meet them.