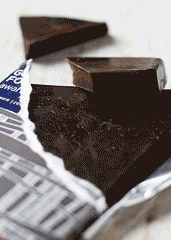 A quick list of things that can help you forget how cold it is:
—Teriyaki bacon jerky.
—Bourbon-barrel-aged dark chocolate.
—Banana-infused peanut butter.
No, we didn't just pull those out of nowhere.
We pulled them out of
Found Eats
, a new outfit that curates and sells cool small-production foods from around the country. It's online now.
A greatest-hits anthology of packaged foods. That's what this is.
So browse around. There's some brittle made with porter beer and coffee beans instead of peanuts. Nice. A bottle of Alabama Salvation Sauce, a mayo/horseradish BBQ sauce. And Pork Clouds, which are fried pigskins. But Pork Clouds sounds better.
Or run a search. "Hot sauce" turns up dozens of choices. "Bitters" yields huckleberry bitters from Montana and citrus bitters from New York.
We could go on, because there's 500 items and counting on the site, but you get the idea.
Oh, and if you're into telling everyone what you're consuming, there's a social aspect here, too. You'll see a feed where you can post lists of your favorite foods, check out recipes and find out what your friends are eating.
Or you could just ask them.