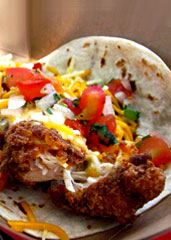 Sometimes you need pizza.
And sometimes you need pizza, AA batteries, Gobstoppers and two quarts of motor oil...
Brought directly to your door...
At 4am...
Hey, we're not here to judge.
We're here to tell you about
Postmates
, a just-launched-in-Dallas 24/7 delivery service that's bringing almost anything you can think of straight to your doorstep, now available via the web, iPhone and Android.
So let's say your impromptu party could benefit from Torchy's Tacos: call upon these guys.
Or you're too invested in your couch to go grocery shopping: jot down your Central Market shopping list, and it shall be done.
But if you have an immediate dinnertime need for some Nick & Sam's surf and turf... yeah, it's these guys in a landslide.
Once in the app, you can run through the list of restaurants and stores. Browse their wares, click through the menus to make your selections or type in a special request, and you'll have everything within an hour. You can even track your delivery person's progress, Uber-style.
The only downside here: they're not currently delivering alcohol. So you're on your own for that.
But purchase enough grapes...