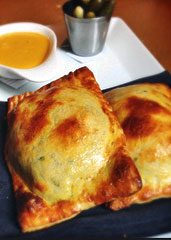 You were 7. It was Saturday morning. And you waited for a commercial break in your cartoons to run into the kitchen.
There, out of the toaster popped a rectangular pastry, festooned with multicolored frosting.
You looked up, wistfully, and said, "One day they'll make these with pork."
Okay, maybe you didn't. But that day is upon you nevertheless.
Don't look now but it's
Pulled Pork Pop Tarts
, now available at the bar at Bourbon Steak.
That sound you hear: that's a lovely bit of alliteration. It's also the local pig population asking, "Really? This is what it's come to?"
Well, yes. Pulled pork shoulder, tossed in mustard-based Carolina BBQ sauce and pepper jack cheese, then stuffed into a pop-tart-esque pastry of buttermilk-chive biscuit dough and baked. Basically four delicious things melded together and thrown in the oven.
That's where you come in. You'll be at the bar (though you can get it on request in the dining room, too). You'll have a beer (what else would you have with these things).
And out they'll come, two at a time, with more of the Carolina sauce and some cornichons.
Up next: the fried-chicken toaster strudel.