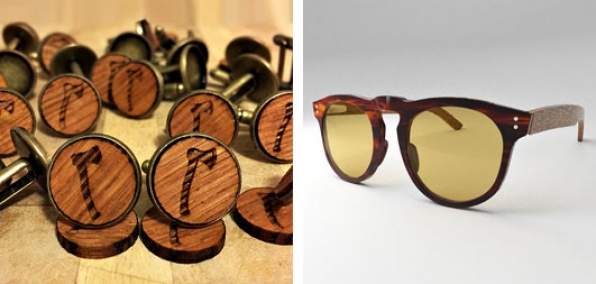 Us: "What are lobster traps used for?"

You: "Trapping lobsters."

Us: "You're half right, but you forgot cufflinks and sunglasses."

This made-up conversation brought to you by Traps Eyewear, your new provider of eyewear and cufflinks that spent time catching crustaceans in another life, now available.

These come to us from some gentlemen in Portland, Maine, because who else are these going to come to us from. One day, they got the notion that those Maine oak traps sitting in the Atlantic could be better served protecting you from the sun or making your suits look better. So here we stand.

The sunglasses: well, they're sold out right now. But they'll be back in a few weeks. So bookmark that page. You've got the JFK-inspired Jack and the Wayfarer-like Ulysses. Each one has Italian-acetate frames and temples made from 10-year-old lobster trap oak in a family woodshop.

There's also those wooden cufflinks made with oxidized brass and... 15-year-old lobster trap oak. And they come bearing symbols like anchors, axes and straight blades. But if you'd like a custom monogram, feel free to request one.

Great, now you want a lobster roll.