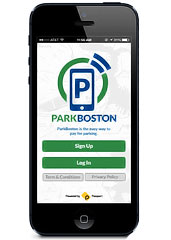 Nice 2014 you had there, Marty Walsh.
But now it's time to take on a few more of Boston's greatest issues.
Like f*cking parking meters...
The people have spoken, and here comes
ParkBoston
, a new app straight from City Hall that allows you to pay parking meters straight from your phone, now available for iPhone and Android.
Heads up: right now you can only use it in a little slice of Back Bay. But it'll be coming to the rest of the city in the next few months.
So...
1) Download it.
2) Enter your phone number to register.
3) Enter your credit card info.
Then keep an eye out for meters marked with special decals. That's where it works. Open the app and input the parking zone number (it'll be on the decal), your license plate and desired length of stay. That's it.
Soon you're at Tico, finishing lunch. Probably doing some laughing. Definitely eating a taco. Suddenly, you get a phone alert saying your meter expires in 10 minutes. You almost panic, but then remember that you can pay for another hour right from your phone.
And then you stay on taco time.