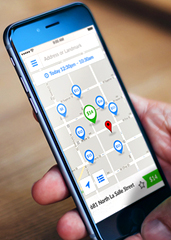 There are a lot of great things about our city.
Parking is not one of those things.
Or is it...
Introducing
SpotHero
, an app that'll reserve you a parking spot in a lot or garage near your destination so it's just there waiting for you when you arrive, available now.
Here's how you'll use it: you'll pull it up on your phone and type in where you're headed. It'll populate a map with all the available lot and garage spots by location and price. The closest one with the best price will be highlighted in green. So... you'll tap that one. There. It's yours.
Then the thing'll give you a detailed description, in case you're, like,
really
into parking spots. Things like a photo of the property, the address, parking tips and whether there's a valet. Oh, and payment is handled right there in your phone.
And that's how you met your favorite app.