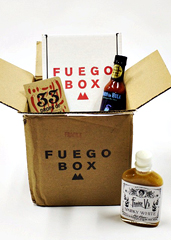 Frank's. Tabasco. Texas Pete.
They're like the Top 40s of the hot sauce world.
Which, sure, is fine. Boring as sh*t, but fine.
No pressure to be better than that at your next game-day party or anything...
But just in case, here's
Fuego Box
, an ever-rotating selection of hard-to-find hot sauces that you've probably never heard of but are still the opposite of un-delicious, available now for monthly and quarterly subscriptions.
This comes to you from a guy who just really likes hot sauce and decided to dedicate his life to finding you the best of them. Which would sound crazy if you weren't so thankful.
So you'll go to the site, click some buttons and choose whether you want one, three or six boxes delivered over the course of a few months.
Regardless, your first box comes with a bottle of ancho chili sauce, a bottle of white-onion-and-habanero sauce and a hot sauce journal. That last item is for keeping track of your spicy condiment journey.
Hope we didn't take that too far.