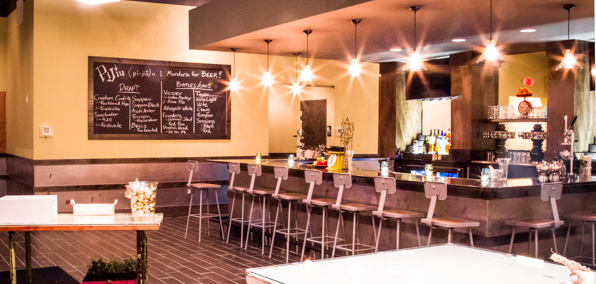 If a place has kimchi on the menu, you might assume it's Korean.
If it has corn dogs, your guess is American.
Cheese and charcuterie, maybe it's French.
Loaded nachos, probably Tex-Mex.
Poutine, going with Canadian.
But if it has all those things...
You'll have to surmise that it's
Pijiu Belly
, a new jack-of-all-foods spot brought to you by the Noodle team, now soft-open on the Westside. (
The menu's here
.)
From the outside, it just looks like an unassuming gray building. Then you notice the painting of a rooster holding a beer on the side. See, "pijiu" means "beer" in Mandarin. And while it's BYOB for now, there'll soon be 16 taps full of things like Sapporo Black and Tropicália from Creature Comforts.
As for today, head over with some work people and rally around one of the tables made from old doors. Your goal: covering it with German potato salad and
Pijiu Burgers
topped with fried eggs, kimchi, cheese and a beer-BBQ sauce.
Then, once they're fully open, you'll be able to play darts while waiting for your dry-rubbed, roasted-for-hours whole rotisserie chicken.
Pretty sure they just pulled a darts-and-chicken move on you.