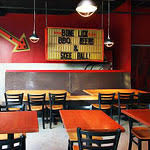 BONE LICK BBQ
The Best-Named Brunch Award Goes To...
You require: Distractions. Vinyl-only music. Vintage arcade games. Skee-ball a plus.
You'll receive: "A Brunch Named Sue." And that should be enough. If not, it also involves Nutella french toast, brisket hash and, yes, Bloodys. But it should probably be enough.