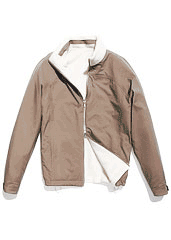 "Some animals are more equal than others."
Orwell wrote that.
We're pretty sure he was talking about politics or something.
But he could have been talking about this shop: DC's first outpost of
Loro Piana
, the Italian outfitter that's downright obsessed with the wool and cashmere that comes from some animals, now open in CityCenterDC.
This is the place to go when you must come up with a real showstopper of a gift. Or when you just want to drape yourself in an opulent fabric or two.
Because this is where you'll find cardigans, cable-knit sweaters and blazers made from baby cashmere. That is, cashmere sheared from a Mongolian goat on its very first grooming. Take a second to process that.
You'll also find jackets made from the rarest merino wool in the world—from breeds of sheep that the Spanish king used to gift to his royal counterparts. And reversible cashmere-nylon bomber jackets. And elk-leather hiking boots lined in beaver fur and—yes—cashmere.
You may want to go listen to some Weezer now.