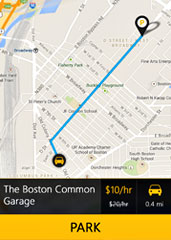 Parking's a problem.
And there are two easy options for fixing it:
1) Sell your car and travel exclusively by Segway.
2) Download an app.
The apps have it with
Veer
, a new Boston-based... app that automatically guides you to vetted parking garages or lots so you don't have to drive in circles and yell f**k, available now for iPhone and coming soon for Android.
We don't need to waste any words saying that this is a tough city for parking. And we already wasted 16 on that last sentence. Damn.
First, download the thing. Then get on the road for some reason. Put in the number of hours you need to park, and it'll give you information and rates on the closest three garages. Swipe your screen to cycle through them.
Once you settle on a garage, it'll give you voice-guided directions to your destination. Obey its robot instructions.
Finally, you park and go claim that O Ya reservation you almost missed. Or arrive at your
Nutcracker
seat moments before first curtain. Or do something less dramatic. Meanwhile, it saves the location of your car and keeps track of the time and garage rate via a digital meter.
It's like a regular meter, just more digital.