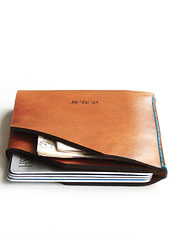 Wait... Christmas commercials are already happening?
You just had a random eggnog craving?
Your mom dropped a Mannheim Steamroller reference on the phone?
Well, this can only mean one thing...
You're about to be opening your wallet at a significantly higher rate than any other time of the year.
And on that note:
Wingback
, a new depot of sturdy leather wallets that you can build from the ground up, is online now.
These are wallets. No wheel-reinventing going on here. Yet the next time you pull it out of your back pocket to purchase something that needs a good purchasing, you'll feel it.
Because someone will inevitably remark how they've never seen something quite like it. That's because you either ordered it to your exact specifications, from the leather color (chili, whiskey, charcoal...) to the thread color to the messages etched on the inside and the outside of the thing. Or...
You sent away for a kit including all of those things so you could make the damn thing yourself.
Excuse your language.