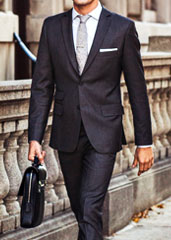 In the future, everyone will be wearing fluorescent white jumpsuits.
But until that day comes: you could use a new suit.
Enter:
Suitable
, a new custom suitery that lives inside the Internet because that's where we're at right now.
"But there are a lot of made-to-measure suit makers online right now," you might say. To which we'll reply, "Those others don't have experience designing for J.Crew, Club Monaco and Ralph Lauren." End scene.
You'll need to measure yourself in 14 different steps, from jacket length to shoulder width. So do that. Then get five weeks older. Then they'll ship you a handcrafted suit made with fabric sourced from British mills.
And you've got options. Consider...
For the interview:
Their classic navy Anchor suit. On the outside, it's all business. On the inside, there's some red stitching. That can be your little secret.
For the wedding:
May we direct you to the Noir shawl-collar tuxedo. Ideal for making toasts and dancing to that one song from Kool & the Gang.
For the statement:
This is where a double-breasted Mercer might come in handy.
Permission to double breast: granted.