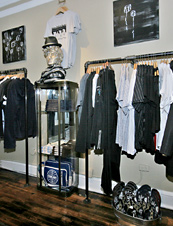 There's an art to packing for the perfect weekend getaway.
Here to help you with your supplies:
Cram Fashion
, a small, well-curated haberdashery opening today in East Lakeview.
Cram may be the most important stop you make before motoring up to Door County with your new lady friend this afternoon. (Okay, make that the second most important stop; you'll also want wine.) It's brought to you by Marc Engel ("Cram" is "Marc" spelled backward), who's also behind Oak Street's shiny temple of Euro fashion, Chasalla.
Here, though, you'll feel more like you've walked into a neighbor's vintage apartment, right down to the American knickknacks and oriental rugs. Sure, you'll find the occasional nod to Versace or a piece of rare Japanese denim, but mostly Cram is your new no-fuss place for a cool vintage T-shirt, plaid shorts, white canvass sneakers and maybe a pair of Tom Ford shades.
You'll also like the vintage Pan Am flight bags to stuff it all into.
Flight attendant, unfortunately, not included.