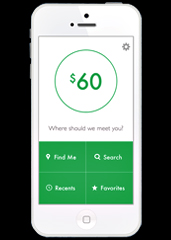 Knock, knock.
Who's there?
A guy with some money for you.
That's it.
There's no joke.
There's just
Nimbl
, an app you use and then someone delivers cash to you. It's operational right now.
Allow us to paint a picture. You need some cash. For things. So you trudge over to an ATM kiosk, like a sucker. It's filthy. It smells bad. There are tumbleweeds of discarded receipts. Some guy is giving a sermon. Basically, it's a bleak situation.
Well, now, you'll use this app.
First of all, right now the whole service is gratis, so that's great. All you do is tell them how much you want (anywhere from $20 to $200) and punch in your location. Then they'll let you know when you can expect the cash (the usual range is within a half hour). Then they come with it. Then you pay them back through Venmo or PayPal. And then you have dollars.
Then you head to your local dollars-to-pints conversion center.
Or... you know, you could just use a card.