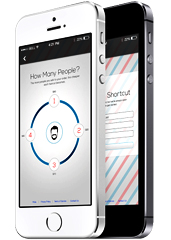 Barbershops are great places.
The camaraderie. The smells. The occasional glass of whiskey.
The problem is, they're not where you live.
And that's just less convenient than it could be.
Like, say, if you used
Shortcut
, an app that makes your barber appear at your door whenever you want, now available for iPhone.
Simple stuff here. You want someone to come to your place to cut your hair, and this app delivers a barber to you from one of the city's fine haircutting establishments (we can't tell you which ones, but trust us).
And this is how it happens: you do all the app stuff with the downloading and the signing up and telling them where to show up and all. You tell them you want a haircut or a haircut and beard trim. Then, your work is done.
Cut to them arriving (sometime between five and 45 minutes after you book). They've got scissors and clippers and a gift for small talk (and also a Square payment thing), and you get fresh/clean. Also note that they're available until midnight, and working on 24 hours.
So if you're looking to become more eccentric...