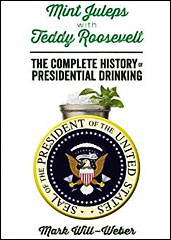 Who's going to be president come 2017? Ask Nate Silver.
Who's the better commander in chief, Washington or Lincoln? Ask a historian.
Which president could really hold his liquor?
For this, consult
Mint Juleps with Teddy Roosevelt: The Complete History of Presidential Drinking
, a new book with lots of anecdotes about presidents and their hooch, now available.
Team of Rivals
this isn't. But if you've ever wanted to tipple like a resident of 1600 Pennsylvania, this could provide a handy guide. Like so:
Be prepared:
While in the White House, Thomas Jefferson would buy 100 gallons of Madeira at a time, and he estimated he needed 500 bottles of champagne per year for entertaining.
Break some rules:
The second floor of the Harding White House was—Prohibition notwithstanding—a veritable speakeasy, featuring poker, cigars and "every imaginable brand of whisky."
Come up with a house cocktail:
Teddy Roosevelt took to serving mint juleps after his tennis matches, tweaking the recipe with rye and a dash of brandy.
Hoodwink your guests:
Richard Nixon was famous for serving himself 1957 Lafite Rothschild while his guests got a lesser wine, its label hidden by the waiters.
It's just Nixon being Nixon.