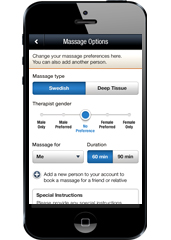 Diddy had his umbrella valet.
Gaga had her personal shower assistant.
James Bond had, well, he had a guy making him dagger shoes and whatnot.
Point is, it's nice to get a little personal help sometimes.
So now you have
Zeel
, a handy little app that'll summon a masseuse to your current location within the hour, available now in Miami.
This is like having your very own massage therapist at your beck and call, seven days a week.
Here's how it'll work: you'll download the app and go about your day. Work. Lunch. Work. Scotch. Your typical strenuous agenda.
When the time feels right, you'll load up the app and choose: a) a time (they're available 8am to 10:30pm), b) your massage therapist's gender, c) the location, and d) whether you'd like a Swedish or a deep-tissue rub. Within the hour, you should expect a knock on your door.
If this sounds like something you could get used to, you can opt for their Massage Zeelot service. That gets you a 60-minute rubdown every month for $99 (that's 25% off what they normally charge). They'll even throw in a gratis massage table for your place.
You'll figure something out.