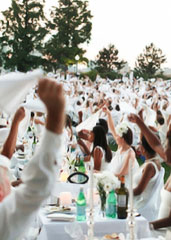 You: "Cheers."
One of thousands of strangers dressed in head-to-toe white surrounding you: "And cheers to you."
Both, in perfect harmony:
"Clink."
And that's pretty much how it's all going to start...
Le Dîner en Blanc Atlanta
, that is. It's the city's first engagement of the roving Parisian dinner party involving a sea of white-wearing strangers, a secret location and so much champagne, and it's taking waitlist sign-ups now (general public registration opens Friday).
This was started 26 years ago by a man named François Pasquier. He's French.
And yes, he made some mandatory rules:
It's BYO chairs, tables and fully stocked picnic baskets.
Embrace it. All part of the fun.
You must wear head-to-toe white.
Otherwise you'd clash with things—the china on your table. The balloons everywhere. The napkins everyone will be ceremoniously waving to signify the start of dinner.
Your attendance is required, rain or shine.
Once confirmed, your participation becomes not-optional regardless of weather conditions. Now might be a good time to Google "white umbrella."
No beer or hard liquor.
So don't bring scotch. But do expect there to be white goblets full of champagne poured from white bottles on hand.
Goblets, people.