First, Lady Bird was Lyndon B. Johnson's wife.
Second, Lady Bird was a lake in Austin, Texas.
Third, Ladybird is
Ladybird Grove & Mess Hall
, a new Beltline-accessible restaurant (whose name was partially inspired by those first two things) with a Leon's vet in the kitchen and a King + Duke vet behind the bar, opening any day now in the Old Fourth Ward. (
Check out the slideshow here
.)
A place that looks and feels like summer camp for adults sort of speaks for itself. But these pictures probably won't hurt either...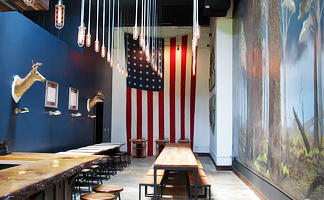 This is a
48-star American flag
hanging next to some taxidermy, framed gun sketches and wooden communal tables. Rally your troops accordingly.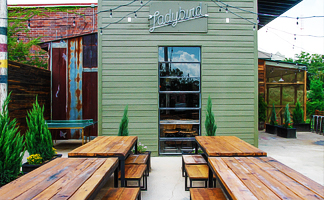 And
here's the patio
, where you'll eat things like crab imperial and Navajo fry bread before playing ping-pong on a half-hidden table.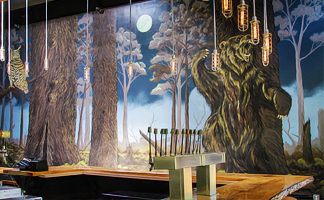 Back inside to the bar for 12 regional beers on tap (Orpheus, Creature Comforts...), four wines on tap and
one very annoyed bear
in a Sam Parker mural.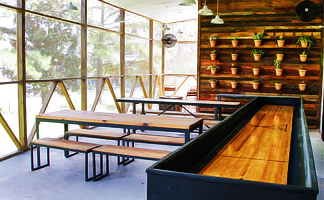 From there, feel free to walk through those garage doors out to the
screened-in porch
with a custom-made shuffleboard table and potted cacti on it.
We'll also accept cactuses.