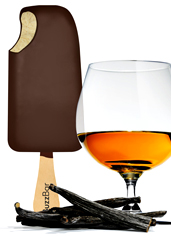 It's going to get cold soon.
And when it does, that would not be the best time to enjoy a chocolate-covered, alcohol-filled, ice-creamy delight on a stick.
But, hey, now's a pretty good time.
Put down your glass and raise a
BuzzBar
, a new assortment of ice cream bars filled with that stuff that sometimes makes things more fun, now available online for overnight delivery.
You've got seven flavors here, each with a different blend of ice cream and spirit. And you can't buy less than 12 at a time. For better or worse. Kidding, better. Always better.
Henceforth: your bars, paired with your suggested occasions...
The strawberry and rum one:
For lounging poolside while "Groove Is in the Heart" plays from fake-stone speakers.
The raspberry and lemon-vodka one:
For hanging out with someone who probably just wants to dance.
The coffee and Irish cream one:
For an unbalanced breakfast.
The chocolate and whiskey one:
For pairing with more whiskey.
The vanilla and cognac one:
For delivering a monologue into the camera.
The cookies-and-cream and bourbon one:
For dipping in milk?
The berry and merlot one:
It's called the
Larry King Heart Bar
. So it's for having pointy shoulders and wearing suspenders.
A Larry King joke is what that was.