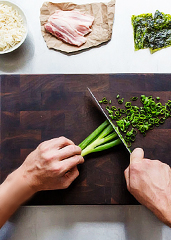 Yes.
You can and should take credit for everything that's about to happen.
There, now that that's out of the way...
You're ready for
Forage
, a new service that brings you everything you need to "cook" a top dish from a top restaurant when you've got a date coming to your place—now taking sign-ups for its imminent launch. (You'll want to be at the front of the wait list.)
They're making it real easy for you here. First you just need to decide on your new specialty. The corn pierogies from Alta CA? The pork ramen from Hapa Ramen? Maybe something from Dosa?
There. That was the hard part.
Order your selection a couple days in advance, and a courier will bring you a collapsible cooler just before go time. Inside: some dry ice, and all the ingredients to whip up your new specialty in about 20 minutes max. Everything is prepped—it's like Forage is your sous-chef. You basically just need to know how to read a few simple instructions and turn on an oven.
That square thing under the burners.